Kangana Ranaut has once again courted controversy. The actress has taken a dig at Taapsee Pannu after the Urban dictionary called her 'Sati Copy'. After being criticized by Twitter users for her 'She-Man' comment about Taapsee Pannu, Kangana Ranaut has claimed that it was meant as a compliment.
The Urban dictionary twitter handle described Taapsee as, "Taapsee Pannu is Bollywood actress known for her befitting replies. She's also called the 'Sasti Copy' of Indian superstar and padma shri recipient – Kangana Ranaut. She is also a member of Pappu Gang."
Kangana retweeted it and wrote, "Ha ha ha She-man will be very happy today."
This didn't go well with netizens, many called her a bully and urged her to delete the tweet. One user wrote, "Is there any KR fan supporting this bullying? I am curious!
Another twitter, "Then what's the difference between you and Bullywood? All that standing up for Sushant only to turn around and do similar to someone else… ."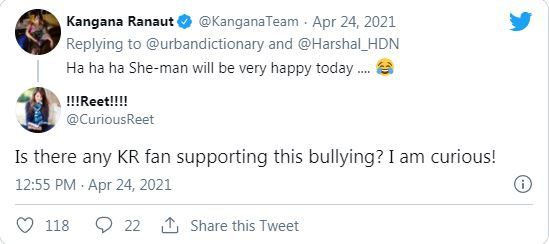 Kangana responded to a tweet that said that she 'targeted Taapsee and used a cheap line for no reason. She wrote, "Being a she-man is cheap? How rude Nayan…. I think it's a compliment for her tough looks … why you thinking only negative I don't understand."
On the work front, Kangana will be seen in Thalaivi, the biopic of former Tamil Nadu CM J Jayalalithaa. Actress Taapsee is currently shooting for Mithali Raj's biopic Shabaash Mithu.